2005. 3.13 The Detroit News
日時:2005年 3月13日

Pioneer, Groves rule state pool

Sho Koba sets two records, and Pioneers take the state title for 12th time since '70.

By Larry Cathey / Special to The Detroit News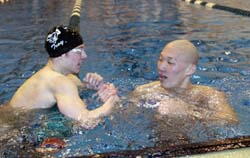 Troy's Jamie Martone, left, congratulates Pioneer's Sho Koba on his record-setting time of 45.79 in the 100 freestyle.

YPSILANTI -- The term "dynasty" has become a clich・when referring to an athletic team and its achievements.

That is, unless you're speaking of the Ann Arbor Pioneer boys swim team.

Behind Sho Koba's record-breaking performance, Pioneer reclaimed its position atop Division 1 in the Michigan High School Athletic Association's swimming and diving championship Saturday in the Michael H. Jones Natatorium at Eastern Michigan University.

Koba, voted the 2005 swimmer of the year, set individual Division 1 state records in the 100-yard freestyle (45.79 seconds) and 200 freestyle (1:38.51) to help Pioneer win its 12th state championship since 1970. Koba's time in the 100 eclipsed the record (45.97) that Grand Haven's Adam Schmitt set last year (45.97).

Koba, who finished more than two seconds ahead of his next competitor, dominated the 200 and broke the record he set Friday in the preliminary races.

"We couldn't have done it without Sho," said Pioneer coach Denny Hill, whose team hasn't finished worse than second place since 1991. "He really had a great meet."

Zeeland coach Mike Torrey said he thought the 200 freestyle was the turning point of the meet. Pioneer had five swimmers in the event, allowing it to secure a large number of points.

"When (Hill) put in five kids, the meet was over," Torrey said. "We needed to have some parity (in the event). There was no parity."

That Pioneer had five swimmers in the event not only spoke volumes about the program's elite status but also helped prove Hill's theory on hard work.

"They're just great kids," said Hill, who was named coach of the year in his 37th season as Pioneer coach. "They're willing to do the work we want them to do."

Justin Barkel and Jordan Diekema helped keep the meet close and pushed Zeeland into second-place with 200 points, 37 ahead of Birmingham Brother Rice. Grosse Pointe South (142) and Lake Orion (133) completed the top five.

Barkel won the 200 individual medley (1:54.04) and breaststroke (57.19), finishing five-tenths of a second off the record set by Holland's Grant Burtch last year. Diekema finished almost two seconds ahead of the next competitor in the 100 backstroke (50.95).

Other winners were Pioneer's 200 and 400 freestyle relays (Division 1 records of 1:26.46 and 3:08.78, respectively), Holland West Ottawa's 200 medley relay (1:35.63), Pioneer's David Curtis in the 500 freestyle (4:35.43), Troy's Jamie Martone in the 50 free (21.06), and Grosse Pointe South's Luke Richard in the 100 butterfly (50.91). Dan Smith of Rockford won the Division 1 diving title.

Larry Cathey is a free-lance writer.